Coach: Lynn McLoughlin & Ellie Thornton – 0857163010
Training Times – 
Thursdays 6pm-7.30pm
Sundays 2pm-3.30pm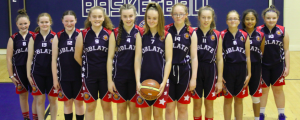 MEET OUR U14 GIRLS
The U14 Girl's season is well underway under way and so far the girls are unbeaten. The team is made up of 8 U14's (Aoife, Saoirse, Rachel, Zoe, Faye, Monica, Sophie & Lily) and 3 U13's (Sophie, Hannah & Erin) . Led by Captain Saoirse Bolger and Vice Captain Zoe Dunne.
The Girl's have been training very hard so far this season and the improvement from each of the girls is outstanding and as coaches that's all we can ask for!
Our goal for this season is to see individual improvements (check ALREADY  but their is always room for more) and team improvements (we're very nearly there) and see where that gets us.
This bunch are super committed, not only to the team but to the Club too. They turn up to training/games week in and week out, you'll see them at most home games supporting/doing table or helping out at Dynamites – Well Done Girls!
You will see some of the girls at other teams games so we hope to see you at some of their games.
Best of luck to all our teams for the rest of the season!
Lynn & Ellie
DATE
TIME
OPPOSITION
VENUE
Sun 20th

Oct

2.10pm
Malahide
Oblate Hall
CUP
Sun 27th

Oct

1.00pm
Donabate
Donabate Community Centre
Sat 9th

Nov

12.40pm
Northside Eclipse
Tolka Rovers
Sun 17th

Nov

2.10pm
Bray Bullets
Oblate Hall
Sun 1st

Dec

1.30pm
Kilcock
Scoil Dara
Sun 8th

Dec

2.10pm
Corinthians
Oblate Hall
Sun 5th

Jan

2.10pm
DCU
Oblate Hall
Sun 12th

Jan

2.10pm
Donabate
Oblate Hall
Sat 18th

Jan

3.30pm
Malahide
Malahide Community School
Sun 19th

Jan

2.15pm
Corinthians
Mount Temple
Sun 26th

Jan

2.10pm
Kilcock
Oblate Hall
Sun 9th

Feb

1.00pm
Bray Bullets
Loreto Bray
Sun 16th

Feb

11.30am
DCU
DCU Sports Arena
Sun 1st Mar
2.10pm
Malahide
Oblate Hall
Sun 22nd

Mar

2.10pm
Northside Eclipse
Oblate Hall