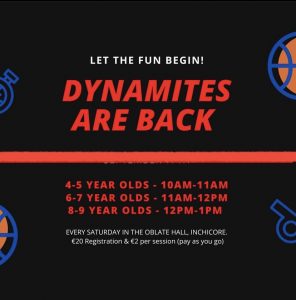 5 -6 year olds – 10am -11am
7-8 year olds – 11am – 12pm
9-10 year olds – 12pm – 1pm
All Parents of children who are attending Dynamites session , log into the Easy Payments systems (Button at top of page) and book the "Dynamites Fee for Sep-June 2023".
Please do this before attending as we will be printing off a list of registered players for use the next day. This will ensure the club will have your details up to date and will enable us to contact you in the event of a late cancelation. (don't forget to allow both email and text communication)
If you have had an account in the past, you will still need you to log in again and allocate the fee to your child so we know your account is still active.
Thanks to those who have registered already and we look forward to seeing more of you next Saturday.