With Dublin's Level 3 Status being extended until at least the 27th October we are still unable to return to normal basketball activities. All coaches and team managers have been working in the background to put in place arrangements for a return of Dynamites training on Saturday Mornings.
When Dublin returns to Level 2 status, we will aim to start Dynamites training again. However, there will be a lot of work needed with registration, tracing, and Hall cleaning for this to take place.
We will need some volunteers to help on the day to limit the covid risk and keep all our players and coaches safe. We will be in touch again when we have a plan in place and know what requirements we will need to complete.
Please stay safe and rest assured that we are still working to bring Dynamites back as soon and as safely as we can.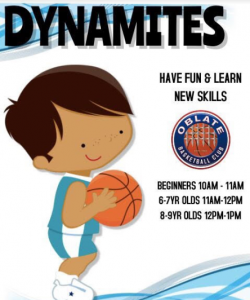 Beginners Boys & Girls – 10am -11am
2011, 2012 Boys & Girls – 11am – 12pm
2009, 2010 Boys & Girls – 12pm – 1pm