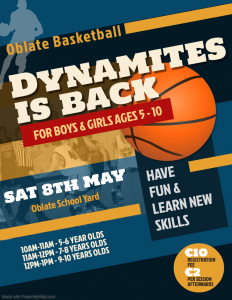 5 -6 year olds – 10am -11am
7-8 year olds – 11am – 12pm
9-10 year olds – 12pm – 1pm
Please first register your child through the 'Join with Easy Payments Plus' tab to speed the process up on the day.
I am delighted to announce that after a year long absence, Dynamites are back this Saturday 8th MAY 2021 (Weather Allowing)
Sessions will take place OUTDOORS in the Oblate School Yard
You are asked to fill in the covid questionnaire before attending. Please ONLY COMPLETE ON THE DAY OF THE SESSION Here is the link
Club Name Oblate BC
Section  "Dynamites Session 1 or Dynamites Session 2 or Dynamites Session 3 
Depending on what session you are going to.
As we are outdoors we are asking Parents to stay in the school yard while sessions are ongoing but to keep a social distance from the other parents and other children. If a child needs to go to the bathroom, the hall toilets will be available for parents to escort their child over and back. We ask that this is kept to an absolute minimum and access on a one in one out basis.
If you are unsure what session to attend please go to the session you went to last year and we can sort out changes as the weeks go on.
Please remember to keep social distance when entering and exiting the grounds and when leaving please do so in good time to enable the next group to enter.
Please check our Social Media Channels before leaving as if it is too wet we may have to cancel the session at short notice
 Hope to see you all there!