Coach: Gerry Farrell – 0872445498
Training Times – 
Friday's 6pm-7.30pm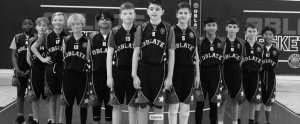 Our U13 Boy's have developed slowly but surely over the last two years, last season we had some ups and downs but we kept believing in the style of basketball we wanted to play which is high energy on offense and even higher on defense!
A few new players showed an interest in joining our team this season and are starting to buy into our style, they are a great asset to the team and the club.
We are still developing and all the boys are working hard and starting to understand their roles in the TEAM. There are no short cuts and it really just takes time with a basketball doing the right things the right way.
Our U14 Boy's train alongside our U13 Boy's as they a preparing for next season ALREADY! Some super talent among them and we are so excited to see what the future holds  Keep it up boys & keep turning up to training as it definitely will pay off.
| | | | | |
| --- | --- | --- | --- | --- |
| U13 Boys Fixtures | | | | |
| DATE | TIME | OPPOSITION | VENUE | W/L |
| Sat 5th Oct | 3.30pm | Dublin Sonics | Tyrellstown Comm Cnt | W |
| Sun 20th Oct | 4.10pm | Dublin Lions | Oblate Hall | W |
| Sat 26th Oct | 2.50pm | BC Tauras | Mountview Comm Cnt | W |
| Sat 2nd Nov | 11.40am | Ongar Chasers | Hansfield ED School | W |
| Sun 10th Nov | 3.15pm | Northside Eclipse | Tolka Rovers SC | W |
| Sat 16th Nov | 4.10pm | Templeogue | Oblate Hall | |
| Sat 30th Nov | 4.10pm | Malahide | Oblate Hall | |
| Sat 7th Dec | 3.40pm | Killester | St David's Artane | |
| Sat 14th Dec | 4.10pm | Eanna | Oblate Hall | |
| | | | | |
| Sat 4th Jan | 12.00pm | Dublin Lions | Colaiste Brid | |
| Sat 11th Jan | 4.10pm | Dublin Sonics | Oblate Hall | |
| Sat 25th Jan | 4.10pm | BC Tauras | Oblate Hall | |
| Sun 2nd Feb | 4.40pm | Ongar Chasers | Oblate Hall | |
| Sat 15th Feb | 11.30pm | Templeogue | Firhouse Comm College | |
| Sat 22nd Feb | 4.10pm | Northside Eclipse | Oblate Hall | |
| Sat 29th Feb | 5.45pm | Malahide | Malahide Comm Sch | |
| Sat 21st Mar | 4.10pm | Killester | Oblate Hall | |
| Sun 29th Mar | 1.20pm | Eanna | Colaiste Eanna | |