Coach: Michelle Farrell – 0868910582
Training Times – 
Wednesdays 7pm-8pm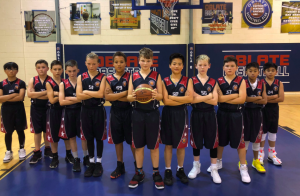 MEET OUR U12 BOYS
Our U12 Boys have been coming together over the last couple of years but this is the first year that they are all playing at the correct age together in a competitive league.
The team is made up of some players that have been playing for over 5 years and others that have just joined. It is a great mix and they are all very encouraging to each other.
They have great potential and always give 100% at training and in games. With 14 players, as coaches the difficulty will be getting them all on the court but it is great to see the dedication from them all.
Seeing the improvements each week is very rewarding and we are looking forward to the rest of the season ahead and learning lots from each other.
Coach Michelle & Lauren
| | | | |
| --- | --- | --- | --- |
| DATE | TIME | OPPOSITION | VENUE |
| Sat 5th Oct | 1.10pm | UCD Marian | Oblate Hall |
| Sat 12th Oct | 2.40pm | Eanna | Oblate Hall |
| Sat 26th Oct | 2.40pm | Dublin Lions | Oblate Hall |
| Sun 17th Nov | 5.50pm | Liffey Celtics | Confey GAA Club |
| Sat 23rd Nov | 2.40pm | Templeogue | Oblate Hall |
| Sun 1st Dec | 12.15pm | Kilcock | Scoil Dara |
| Sun 8th Dec | 10.00am | Dublin Lions | Colaiste Brid, Clondalkin |
| | | | |
| Sat 11th Jan | 1.00pm | Eanna | Colaiste Eanna |
| Sun 19th Jan | 1.30pm | Templeogue | Frihouse Community College |
| Sat 1st Feb | TBC | TOURNAMENT | Cork |
| Sun 2nd Feb | TBC | TOURNAMENT | Cork |
| Sat 15th Feb | 2.40pm | Liffey Celtics | Oblate Hall |
| Sun 23rd Feb | 2.00pm | UCD Marian | Oatlands, Stilorgan |
| Sat 29th Feb | 2.40pm | Kilcock | Oblate Hall |
| Sat 21st Mar | 2.40pm | Dublin Lions | Oblate Hall |