U11 Boys –
We made a decision to put the U10 Boys into the U11 League. The team was made up of U10's and some U11's.
As the season went on we had more players join and ended up with over 20 players! This was great to see and the enthusiasm from this bunch was great. At the end of the season we had over 25 players at training. There were huge improvements in the players and the effort each week was really encouraging.
Playing matches has really stood to them and will make a big difference to them entering the league again next year. The boys are now playing better defence and looking up for passes.
Our pre-season preparations are now underway with friendlies nearly every week. We are looking forward to next season working with such an enthusiastic bunch of players.
Players need to keep attending training and camps to see the difference!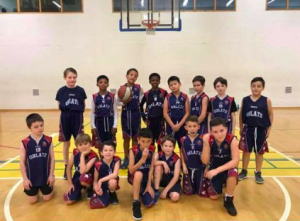 U12 Boys –
The Boys are made up of 5 U1's2 and the rest U11's. The Boys started the season well but then had a bad patch but picked themselves up and had some great performances against Eanna and Templeogue in the Cup but unfortunately the nerves got the better of the boys in the Semi-Finals of the Cup against Marian, the boys picked themselves up again and finished the league well.
They really need more boys born in 2007!!
At the moment the Boys are playing challenge games against different teams and will have a tournament in the Oblate Hall in June.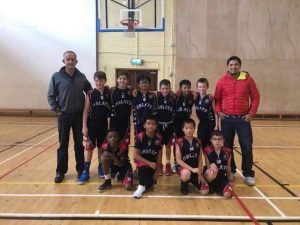 U12 Girls – 
Our U12 Girls had a FANTASIC season in their first competitive year of basketball, finishing 2nd in Division 1. The girls got off to a flying start winning 7/7 before hitting a rocky patch over Christmas.
However the girls shook it off going on to win their last 7 games meaning the would have beaten every team in the league at least once with every player scoring at least once throughout the season.
The girls are improving all the time and they are ones to watch out for next year!
Coach Ciaran & the Club are so proud of you all!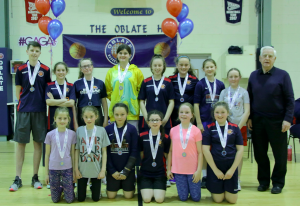 U13 Girls –
It was a tough season for the U13 girls and finishing at the bottom of the table didn't justify the effort that they had put in.  They won a total of 2 games and narrowly missed out on another 2 wins.  Most teams get disheartened losing but this group of girls always managed to come back to training with smiles on their faces and full of chat! I suppose one thing was achieved, they must have been having fun!!
In the second half of the season we lost by less to some teams that had beaten us well prior to Christmas, another achievement!  They never gave up, as hard as some games were, losing by a large margin, the girls fought to the bitter end displaying true grit of what a Dynamo really is.
Overall, there is still lots to work on and with a joint effort and individual practice over the summer there certainly is potential for the girls to do well in the future.
Well done girls!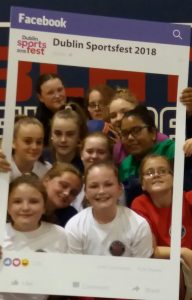 U14 Boys – 
Aisling & Eddie took the U14 Boy's this season, they got off to a rocky start with the coaches getting to know the players and vice verse, but with continuous hard work and training they proceeded to really come together as a group and managed to win 4 games back to back and carried on to pick up some more wins!
The lads came 4th in their league, Aisling & Eddie are very proud of the united effort from all the lads .
It's was a pleasure to take on such a lovely and hardworking group of boys this season and we're ready to put in all the hard work and dedication it takes to get the results we want next season – Aisling & Eddie.
Super Stuff lads you've all come on leaps and bounds since the start of the season and the club are very proud – keep it up.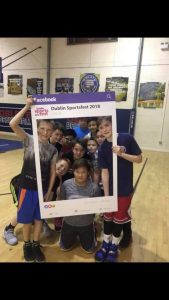 U16 Girl's – We started the new season on foot of a League Win in U15's! We had an introduction of one new player in Emily Lyons and welcomed Rose Mesquita back to the fold.
This group showed no fear, given the fact that their range of ages would be eligible for U14s, U15s and 3 in their correct age group. Despite the range the girls were eager and committed and jumped straight into pre-season training.
The girls worked hard, supported each other and performed brilliantly both on and off the court! Some super performances led to another good and well deserved finish in the league; falling just short but achieving a very respectable 2nd Place! (Raiders taking the win and losing only to our Oblate Girls).
This group of girls have a great record; only losing a total of 4 games in 2 seasons and to their credit not losing at home in the Oblate Hall!
Well done girls and thank you all for your dedication, Joanne and I wish each and every one of you the very best of luck!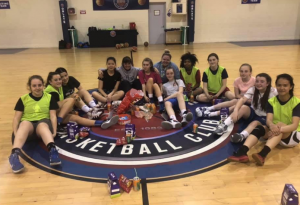 Dynamos U18's had a relatively good season considering they played most of it with 8 players and 4 of them were U17. The girls made lots of great memories with trips to Belfast,Cork and Tullamore on their way to the Shield final in the arena where they lost to Limerick. This group played as a team and always gave their all despite facing teams with much stronger panels and everyone on the team improved as players with the majority also having their first taste of senior ladies basketball at various levels. In their final game as a team they faced the National cup and Dublin Champions, Liffey Celtics and the Dynamos were up with only seconds to go but ultimately lost out in the dying moments. This was 1 example were they showed that if you mix a touch of class with a lot of hard work you can achieve great results. Thanks to Alison and Barbara for all your help throughout a memorable season.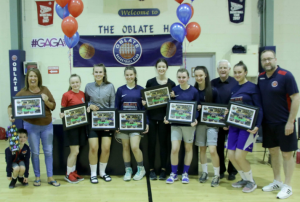 Senior 1 Ladies – The Senior 1 Ladies had a season of 2 completely different halves. Before the Christmas break the girls had 8 wins and 1 loss but their season was turned upside down in the new year where they managed just 1 win as they scraped their way into the Top 4's. The team are in a bit of a transition period at present as they look to replace some of the more experienced players who stepped aside in recent years. With an average age of just 20 the future is looking good for Dynamos. There are lots of positives to take from this past season and there were glimpses of what this team are capable of when they play as a team. A big thank you to all the wonderful supporters we had through thick and thin. See you next season….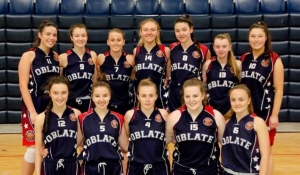 Senior 3 Ladies –
What a season these girls had. Knowing we were losing 2 players from last season we were a bit unsure as to what the season would hold. With the addition of some new players at the beginning and the welcome return of Karen after Christmas the team went from strength to strength with some amazing results along the way. By mid-season we had only dropped the one game. Along came January and unfortunately I needed to step away but we were fortunate that Claire and Joanne were able to continue the good work with these ladies. Reaching the Cup Final for the second year on the trot was nothing more than the girls deserved. Unfortunately it was not our day but the opportunity to rectify this performance came our way in the Top 4 Semi Final. The girls made very sure to show that the Cup Final was a blip. They progressed to the Top 4 Final and the display that day was an absolute credit to the girls. They finish the season having gained promotion to Senior 2, Cup Final and a Top 4 Trophy. Not bad for one season.
I have nothing but admiration and respect for these girls and for  the manner in which they attacked this season. Their teamwork and friendship on and off the game is a credit to them. They train hard, play hard but most of all they enjoy what they are doing and what they have achieved. Once again my sincere thank you to Claire and Joanne, without you we may not have achieved the results we did this year.
Girls keep smiling and enjoy the off season, it was a pleasure.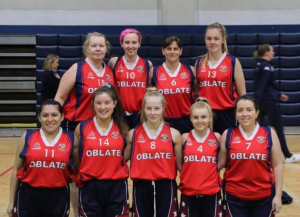 Senior 5 Ladies –
A team made up of current players, new additions and the U18 girls playing up, it was a new adventure to have a 3rd Senior team. It did take some time to settle and gel but when these girls got going they pulled off some amazing results and although there were games when they only had 5-7 players as a result of injuries, this didn't deter they from the task in hard. Unfortunately I had to step away in January but with Claire as a constant with me over the last two seasons the girls continued to go from strength to strength. Unfortunately the early results costed us a Top 4 place spot, losing out by just 1 point. The atmosphere at all times with this team makes coaching them an absolute pleasure, not got phased out when down to 5 players for a game,, they just went and got the job done. Ladies you made it an most enjoyable season. Enjoy the off season and see you all back soon.
My sincere thanks to Claire and Joanne who covered me and ensured that these girls continued the fight, I really don't know what we would of done, the time and commitment from you both needs to be applauded, forever indebted to you.