Coach: Terry Staunton – 0863840326
Training Times –
Tuesday 7.30pm-9pm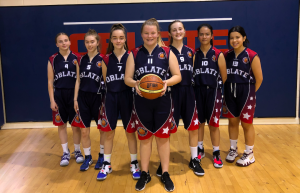 The U17 Girls have a tough season ahead this year, partly due to the fact that a lot of their team from last season have moved away for various reasons. But there are 7 remaining WARRIORS, 4 of whom are still U16 by the way, and are ready and willing to wear the jersey with PRIDE and do their best to fulfil the tough schedule in one piece.
Kendra, Alicia, Emily, Nicole, Natasha, Jessica and Anthea are training hard with the Senior Ladies as they prepare for their first game of the season this Saturday.
This band of sisters will have a great season if they can avoid injuries and make it through the season with the seven still standing. If they carry on progressing as they have been in preseason they'll all have a long Basketball Career ahead and I'm delighted to be at the helm this season working with the girls.
Coach Terry Staunton.
| | | | |
| --- | --- | --- | --- |
| DATE | TIME | OPPOSITION | VENUE |
| Sat 19th Oct | 5.00pm | Tridents | St. Brigid's School |
| Sun 27th Oct | 11.10am | Dublin Lions | Oblate Hall |
| Sun 10th Nov | 1.30pm | Swords | ALSAA |
| Sun 17th Nov | 11.10am | Killester | Oblate Hall |
| Sat 23rd Nov | 11.30am | Meteors | Colaiste Isoghain |
| Sun 1st Dec | 1.35pm | Northside Eclipse | Benevin College |
| Sun 15th Dec | 11.10am | Ongar Chasers | Oblate Hall |
| | | | |
| Sat 18th Jan | 3.00pm | Dublin Lions | Moyle Park, Clondalkin |
| Sun 26th Jan | 11.10am | Northside Eclipse | Oblate Hall |
| Sun 9th Feb | 11.10am | Meteors | Oblate Hall |
| Sat 22nd Feb | 10.10am | Ongar Chasers | Hansfield Sec Sch |
| Sun 1st Mar | 11.10am | Swords | Oblate Hall |
| Sun 15th Mar | 10.10am | Killester | St. David's Artane |
| Sun 22nd Mar | 11.10am | Tridents | Oblate Hall |