Coach: Ciaran O'Doherty – 0851611976
Training Times:
Mondays – 7pm-8pm
Sundays – 12.30pm-2pm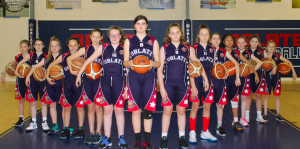 The U13 girls have been playing together for the past 3 years becoming a tight knit group. Last year the girls took part in there first competitive season making it to the Quarter Final of the Dublin Cup and coming 2nd in their league, only 2 points of the eventual winners.
The girls notably went 8 games unbeaten at the end of last season to secure that silver medal. The girls have started their season with 2 wins and are hungry for more alongside their coaches Ciaran O'Doherty and Karen Staunton.
Team:
Sophie Staunton
Alannah Griffin
Hannah Byrne
Kate Wood
Jasmine Edgerton
Kellie Baker
Eden Brangan
Lana Mc Crudden
Laila Roberston
Maria Tipper
Diana Mirt
Sarah Kavanagh
Lara Nugent
Erin Yumul
| | | | | |
| --- | --- | --- | --- | --- |
| DATE | TIME | OPPOSITION | VENUE | |
| Sat 5th Oct | 1.00pm | Ongar Chasers | Ongar Community Centre | |
| Sun 13th Oct | 12.40pm | Kubs | Oblate Hall | |
| Sun 3rd Nov | 12.15pm | Firhouse | Firhouse Community Centre | |
| Sun 10th Nov | 12.40pm | Northside Eclipse | Oblate Hall | |
| Sat 16th Nov | 10.00am | Kubs | Carroll Arena, Greendale | CUP |
| Sun 17th Nov | 12.40pm | Meteors | Oblate Hall | |
| Sun 24th Nov | 12.40pm | Dublin Lions | Oblate Hall | |
| Sun 1st Dec | 12.40pm | Templeogue | Oblate Hall | |
| Sun 22nd Dec | 2.30pm | Liffey Celtics | Cois Life, Lucan | |
| | | | | |
| Sun 12th Jan | 12.40pm | Liffey Celtics | Oblate Hall | |
| Sun 19th Jan | 12.40pm | Firhouse | Oblate Hall | |
| Sat 25th Jan | 2.40pm | Templeogue | Firhouse Community College | |
| Sun 2nd Feb | 12.40pm | Malahide | Oblate Hall | |
| Sat 8th Feb | 3.40pm | Northside Eclipse | Tolka Rovers | |
| Sat 22nd Feb | 1.40pm | Dublin Lions | Moyle Park, Clondalkin | |
| Sun 23rd Feb | 12.40pm | Ongar Chasers | Oblate Hall | |
| Sun 1st Mar | 10.00am | Kubs | Carroll Arena, Greendale | |
| Sat 21st Mar | 10.10am | Meteors | Rosemount Sec School | |
| Sat 28th Mar | 1.00pm | Malahide | Scoil Iosa (Malahide Comm Sch) | |